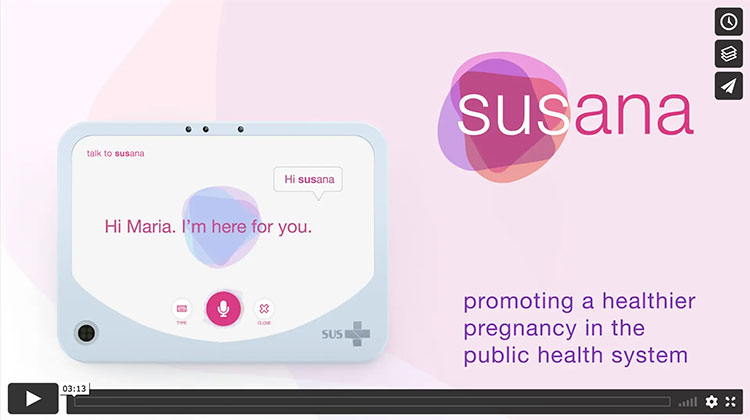 susana was the chosen project to represent Esdi at this year's Microsoft Design Challenge, "A Healthier Future." It is a system that supports pregnancy care within the scope of the Brazilian unified health system (SUS). It is a digital network support system, present in the homes of pregnant women through an electronic device. This concept opposes the idea of a multifunctional assistant where apps and features compete for the users' attention.
It aims to be always referred as the family's connection with the health system. This interaction is done through voice, text, image and built in sensors: a dual camera system for video calls, enhanced augmented reality and blood pressure measuring (using a technology called transdermal optical imaging); an infrared camera for temperature; and a laser sensor for glucose. In addition to the multimedia device, mothers can also receive other sensors and wearable devices to monitor their health, if the medical team deems it necessary.
The system was designed to add an extra layer of data to health professionals, using its sensors, artificial intelligence, an integrated growing database and machine learning processes to perform routine and non-invasive tasks. Its presence allows a more dedicated and attentive performance of professionals to activities that are solely, or at least better, performed by humans.
Both the service and device are free, as well as the internet connection the system requires. This allows susana to be accessible to lower-income families, increasing its reach and impact.

Group members
Emylio Menacker
Gabriel Borges
Julia Martins
Leonardo de Morais
---
Bip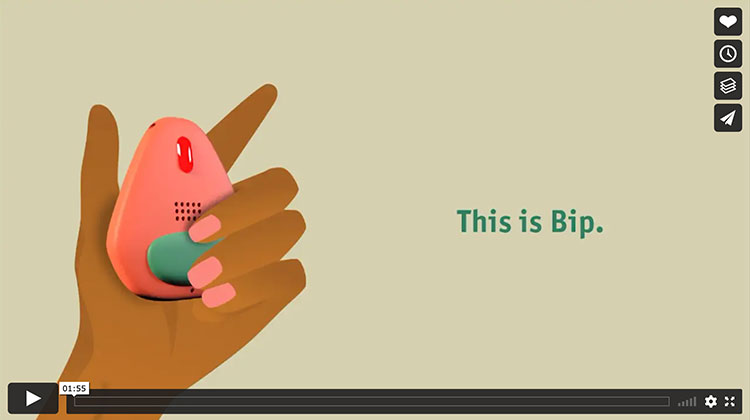 Bip is the solution to the problems of memory and autonomy for elderly illiterate people. The targeted audience already has strangeness with electronic devices, so we thought of something that would bring the tactile experience, which is more comfortable, and would also be friendly, intuitive, extremely simple and interactive with other devices. The solution is characterized as a system of 3 components that will assist health. These components are:
A mobile device, called Bip, that will tell the individual which, when and dosage of medicine to be taken daily, according to the presets configured by the doctor or other health professional. In addition, it is able to reproduce the package information when the user asks for it.
An app for the health professionals for setting the prescriptions to their patients' Bip.
Smart medicine packages with sensors that connect to this mobile device indicating their location through LEDs.

Group members
Ana Clara Orichio
Maria Luisa Ventura
Thaís Sixe
---
Hatch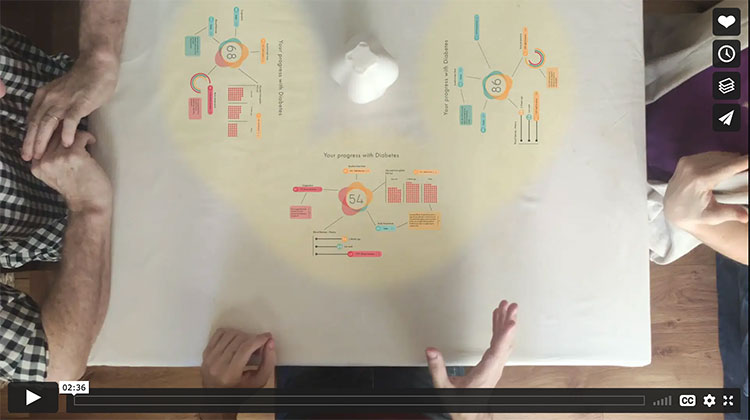 Hatch is a conceptual device designed as a solution for the Microsoft Design Challenge 2020. Its aim is to shift the paradigm of health tracking from an individual activity to a social experience.
Its goal consists of helping individuals with diabetes to track the medium-term state of the disease, complementing the daily tracking that this condition many times demands.
Hatch features various light sensors firing through its external shell that are capable of tracking various general health data points, as well as a user's Glycated Hemoglobin and Blood Ketones, to generate AI insights on their upkeeping of the condition. It then uses projectors to create a multi-user health tracking interface designed to aid groups in keeping track of each other and learning from real experiences.

Group members
Ana Glaucia Paulino
Elisa Lima
Gabriela Alcantara
João Henrique Gallas
---
NAVE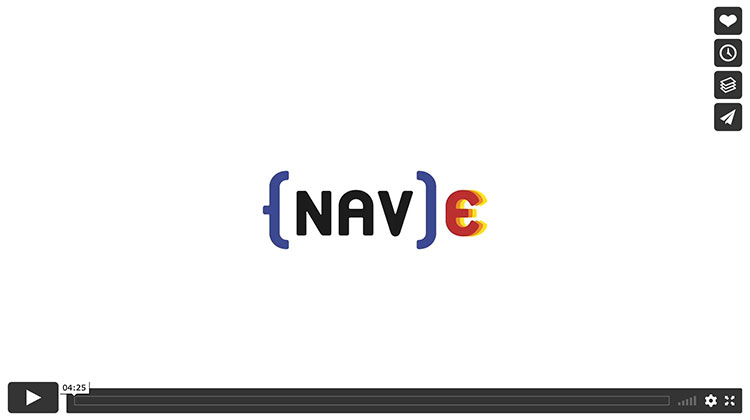 NAVE is an interactive project that provides an immersive, ludic and social experience to hospitalized children. It was especially projected for the Microsoft Design Expo 2020, that had "A Healthier Future'' as the main proposed theme.
But what does "a healthier future" really means?
For us, a healthier future is the one that takes care and respects children from the present. They are the seeds of a prosperous future. Therefore, we should guarantee their possibility of having a vivid childhood: with fun, sensorial exploration and friendships.
However, there are some children whose rights have been denied by a major reason. Long-term hospitalized children have to endure an environment that lacks fun, interpersonal interaction and exploration times. It affects not only their social development but also their mental health.
Since we can not take these children out of a sterile environment, we managed to do it virtually, with AR technology -- enabled by the Microsoft Hololens II and an Xbox controller.
NAVE brings back those missing things to the child's routine in a fun and ludic way, allowing them to naturally bloom. Every seed must bloom. And that is the future we aim.

Group Members
David Berliner
Guilherme Cruz
Luana Batista
Miguel Sarzeda